Over Half of Americans Wouldn't Fly for a Wedding in 2021
Many weddings looked very different last year due to the pandemic. Wedding favors included hand sanitizers and face masks and many ceremonies were held online. Other weddings were postponed to this year. With the pandemic's end still uncertain, there are still many decisions wedding guests and vendors need to make to stay safe while finding ways to celebrate their happy couple.
To get a pulse on wedding travel this year, Florida Panhandle surveyed 3,000 total Americans to learn under what circumstances guests would make the trip out for a wedding.
They found that 57 percent of respondents wouldn't fly for a wedding under any circumstances. This may be tough for couples who have many relatives living far away, especially if they originally intended to attend. Attendance alternatives like wedding livestreams can help fill the gap for loved ones who still want to be a part of the big day.
The survey also found:
More than 1 in 5 would fly for a wedding if it was a family

member was getting married

Over one fifth said their fear would be eased

if there were mask requirements for guests

3 in 20 feel safest with

a small guest list at weddings
For those who would fly out for a wedding, most would only fly out for family while less respondents would take the risk if they were apart of the wedding party or if a friend was getting married. Understandably, many would feel more at ease if certain COVID-19 precautions were taken like mask requirements and smaller guest lists. 
Embed Code:
Please include attribution to Florida Panhandle with this graphic.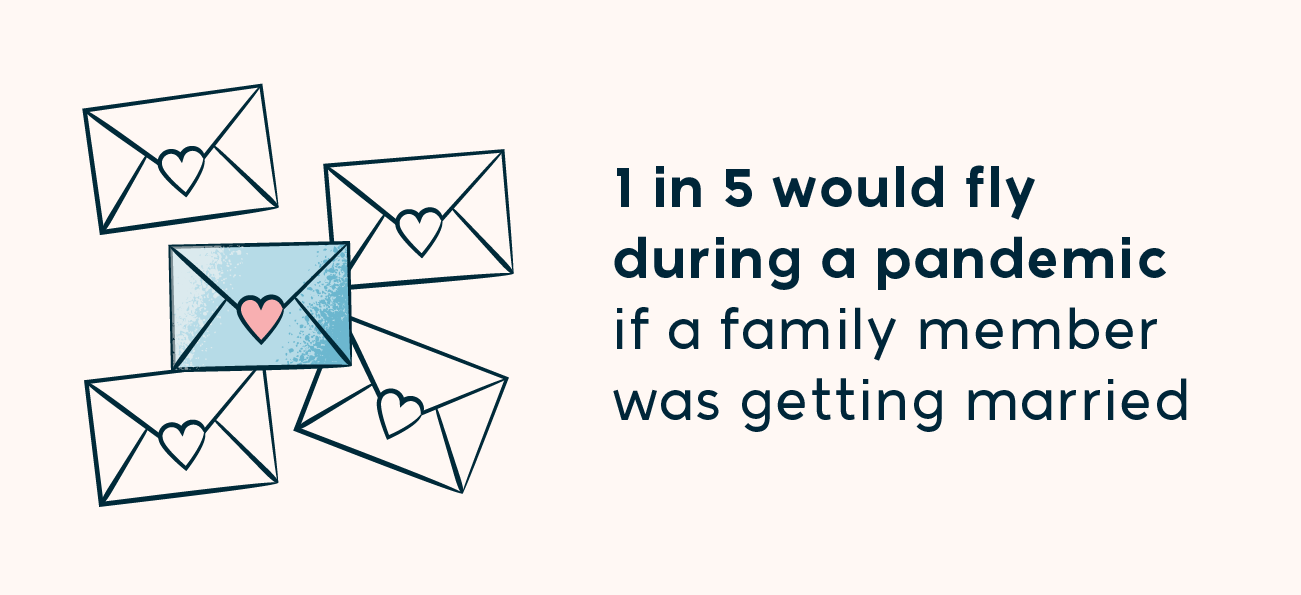 It's still possible to organize a safe wedding during the pandemic. However, it'll probably be much different than how you imagined. A large guest list and a packed dance floor are a few things you'll need to sacrifice if you want to have your ceremony now.
There's no shame in postponing and there's no shame in holding a more intimate ceremony. Overall, the most important thing about your wedding is that you're doing what you want to do and what you feel most comfortable doing.